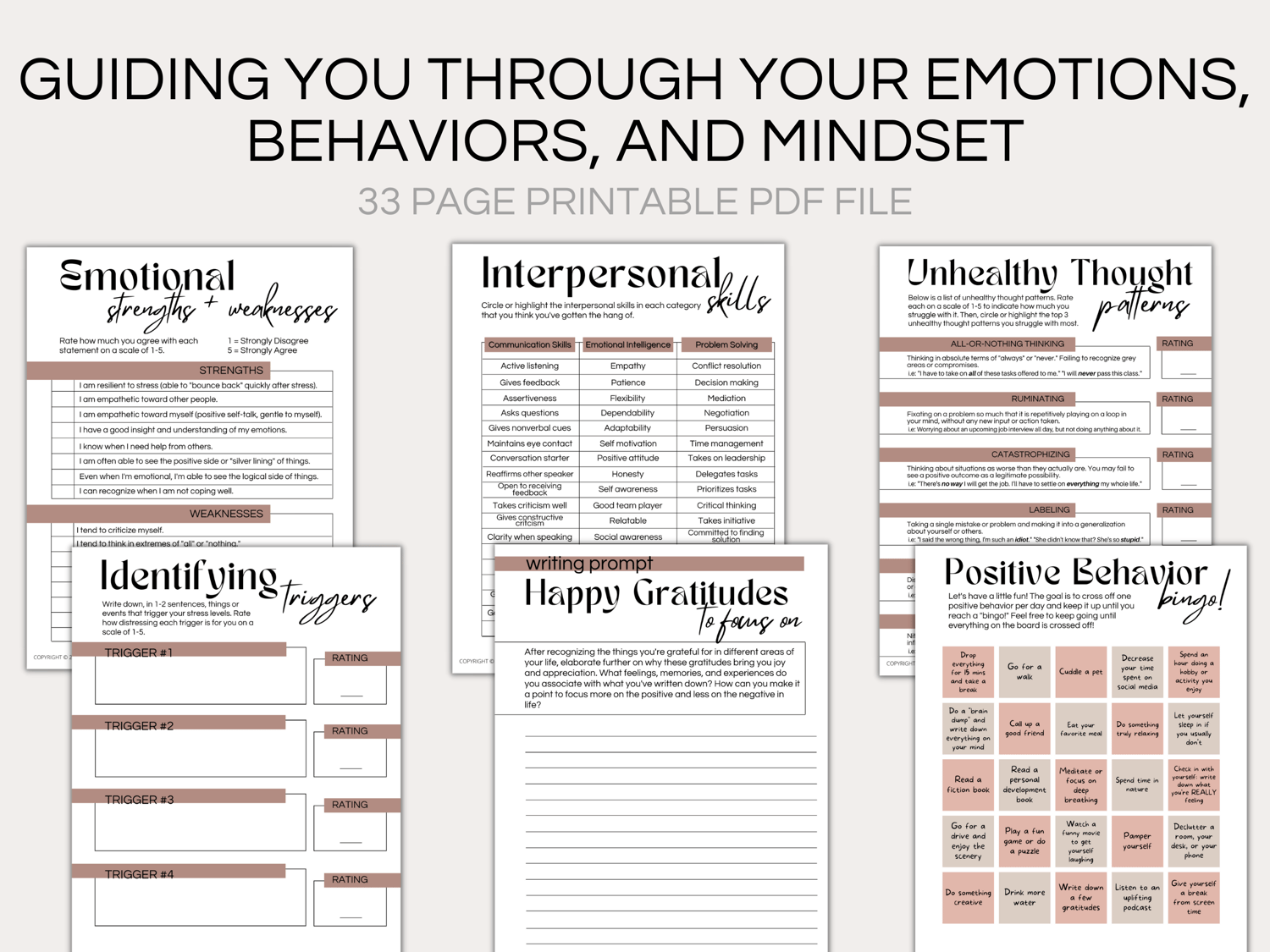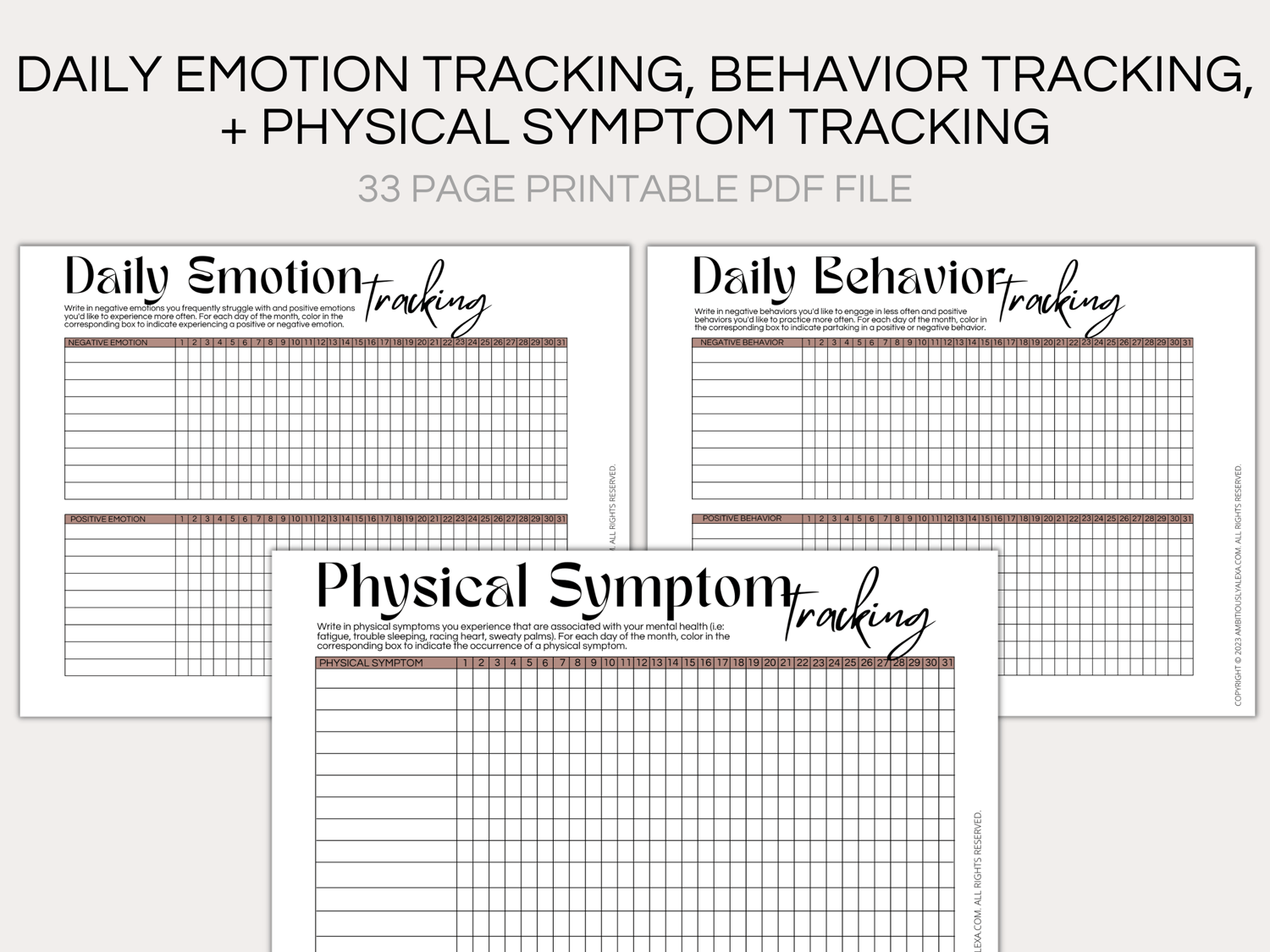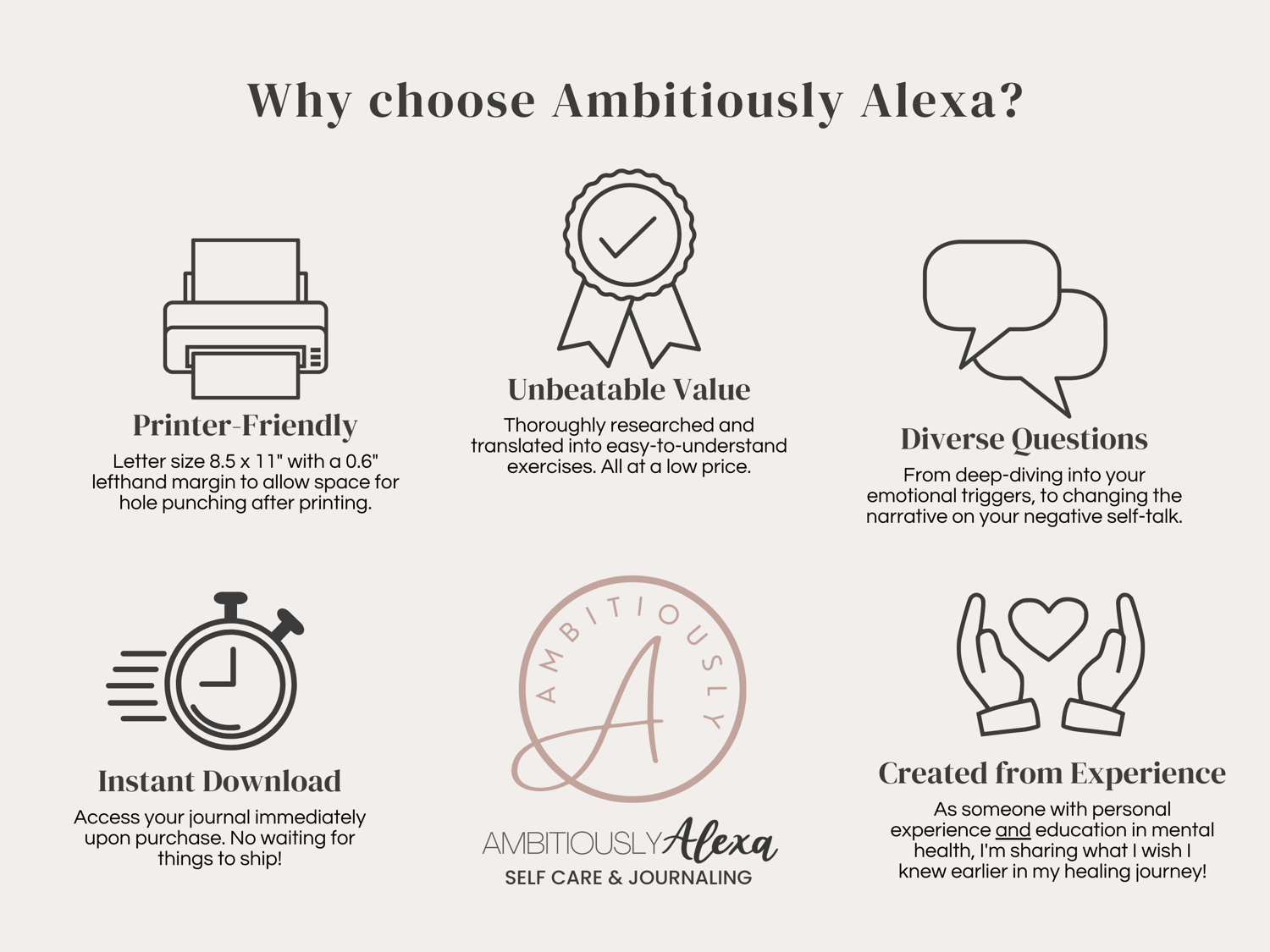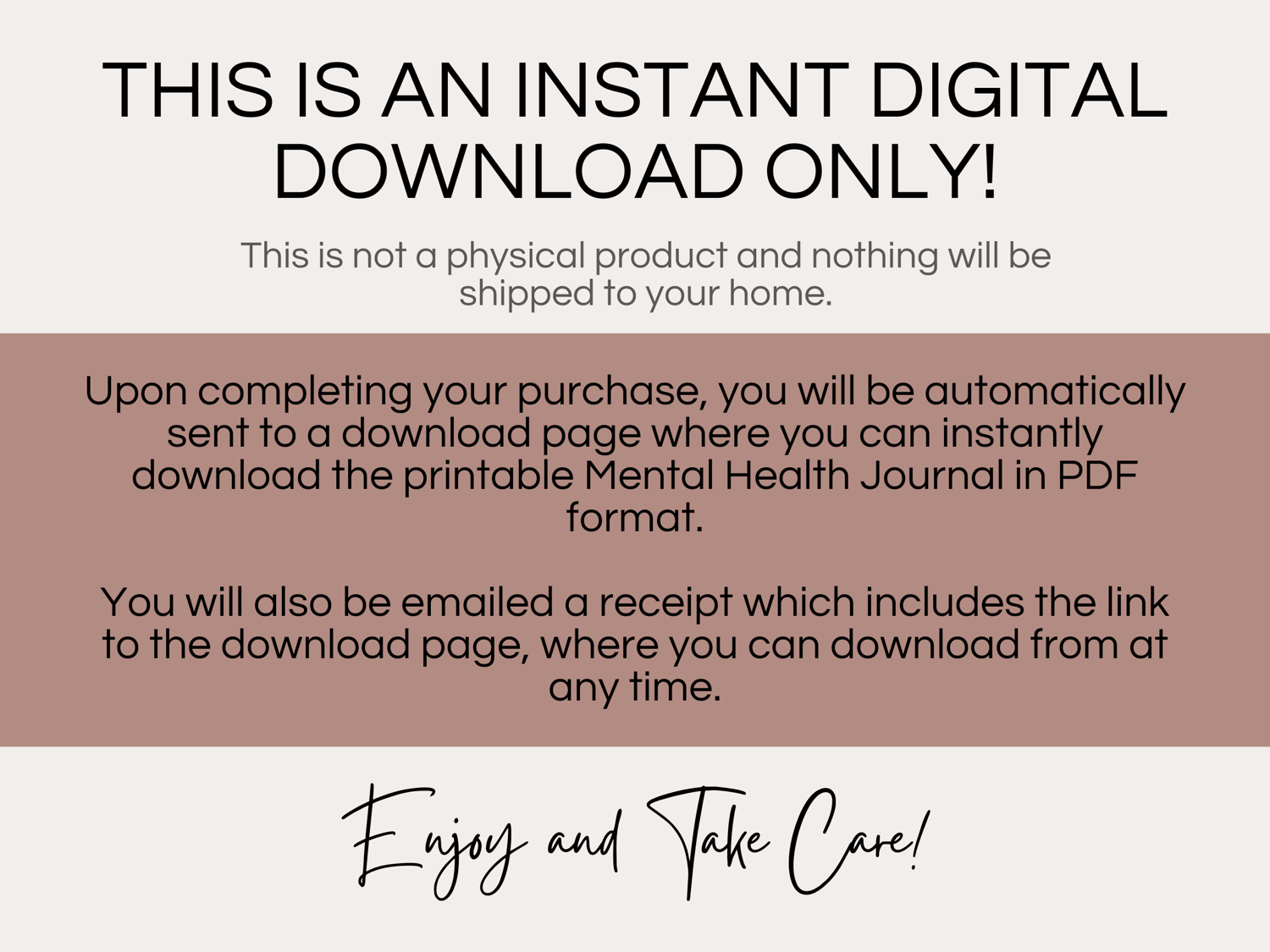 Mental Health Journal
On Sale
Struggling with anxious thoughts? Low mood? Or just want a little help managing life's daily stressors? (Hey, we've all been there!)
Wherever you're at, this mental health journal is full of exercises and writing prompts to guide you through it all! This is your go-to comprehensive guide for all things mental health: with the ultimate goal of improving your emotions, behaviors, and mindset. 
You do
NOT
have to be suffering from mental illness or be going through therapy to benefit from this journal! We 
all
experience difficult thoughts and emotions, so this is for you, no matter who you are!
By the end of this journal, you'll...
Know your emotional triggers inside and out
Learn the exact process for successfully getting yourself out of negative thoughts

And squashing the behaviors that come with them!

All while you gain a deeper understanding of your emotions, cognitions, and overall mental wellbeing. 
PAGES INCLUDED IN THE MENTAL HEALTH JOURNAL (33 PAGES):

Cover Page
Mental Health Goals
Mental Health Goals: Writing Prompt
Emotional Strengths + Weaknesses
Emotional Strengths + Weaknesses: Writing Prompt
Interpersonal Skills
Interpersonal Skills: Writing Prompt
My Social Boundaries
My Social Boundaries: Writing Prompt
Identifying Triggers
Identifying Triggers: Writing Prompt
Negative + Positive Emotions
Negative + Positive Emotions: Writing Prompt
Negative + Positive Cognitions
Negative + Positive Cognitions: Writing Prompt
Unhealthy Thought Patterns
Unhealthy Thought Patterns: Writing Prompt
Reframing Your Thoughts
Reframing Your Thoughts: Writing Prompt
Daily Emotion Tracking
Daily Emotion Tracking: Writing Prompt
Daily Behavior Tracking
Daily Behavior Tracking: Writing Prompt
Daily Physical Symptom Tracking
Daily Physical Symptom Tracking: Writing Prompt
Positive Coping Strategies
Positive Coping Strategies: Writing Prompt
Positive Behavior Bingo
Positive Behavior Bingo: Writing Prompt
Gratitudes to Focus On
Gratitudes to Focus On: Writing Prompt
Notes, lined
Notes, blank 
(*Please note: this is a digital download product only. Nothing will be shipped to you.)


If you purchase this journal, you will get a 15% coupon for your next purchase on any of my other products :) 


💗 Like what you see? Then you'll also love these!
🧘🏻‍♀️THE BUSY WOMAN'S SELF CARE JOURNAL:
https://shop.ambitiouslyalexa.com/b/self-care-journal
🧸INNER CHILD WORKBOOK:
https://shop.ambitiouslyalexa.com/b/inner-child-workbook
🎯GOAL PLANNER
https://shop.ambitiouslyalexa.com/b/xDodM
🙏GRATITUDE JOURNAL
https://shop.ambitiouslyalexa.com/b/JMSQA
✨the technical stuff✨

-------------------


Format / How to Download:

This digital journal is in PDF form, to be printed in Letter Size 8.5"x11" format.
There is a 0.6" lefthand margin on each page to allow space for hole punching after printing.
Upon completing your purchase, you will be automatically sent to a download page where you can instantly download the Mental Health Journal.
You will also be emailed a receipt which includes the link to the download page, where you can download from at any time.
Terms of Use:
This Mental Health Journal is copyrighted and is intended for personal use only. Commercial use is forbidden. Please do not resell or redistribute to others.
Refunds:

Due to the nature of digital content, all purchases of digital products from our Site are final. However, please do not hesitate to contact me if you have any concerns or complaints with your product!
Disclaimer:

I, Alexa Davis, founder of Ambitiously Alexa, am not a licensed psychologist, counselor, physician, or therapist, nor am I claiming to heal, treat, cure, or prevent any psychological/emotional/medical conditions. This journal is not meant to substitute or serve as therapy, professional medical advice, treatment or any diagnostic measure or tool. If you're not sure if this is right for you, show it to your therapist. This is only meant to be used as a helpful guide. (The most I have is a B.A. in Psychology, so I'm not able to do anything fancy here!)
---------------------------
Enjoy and Take Care!