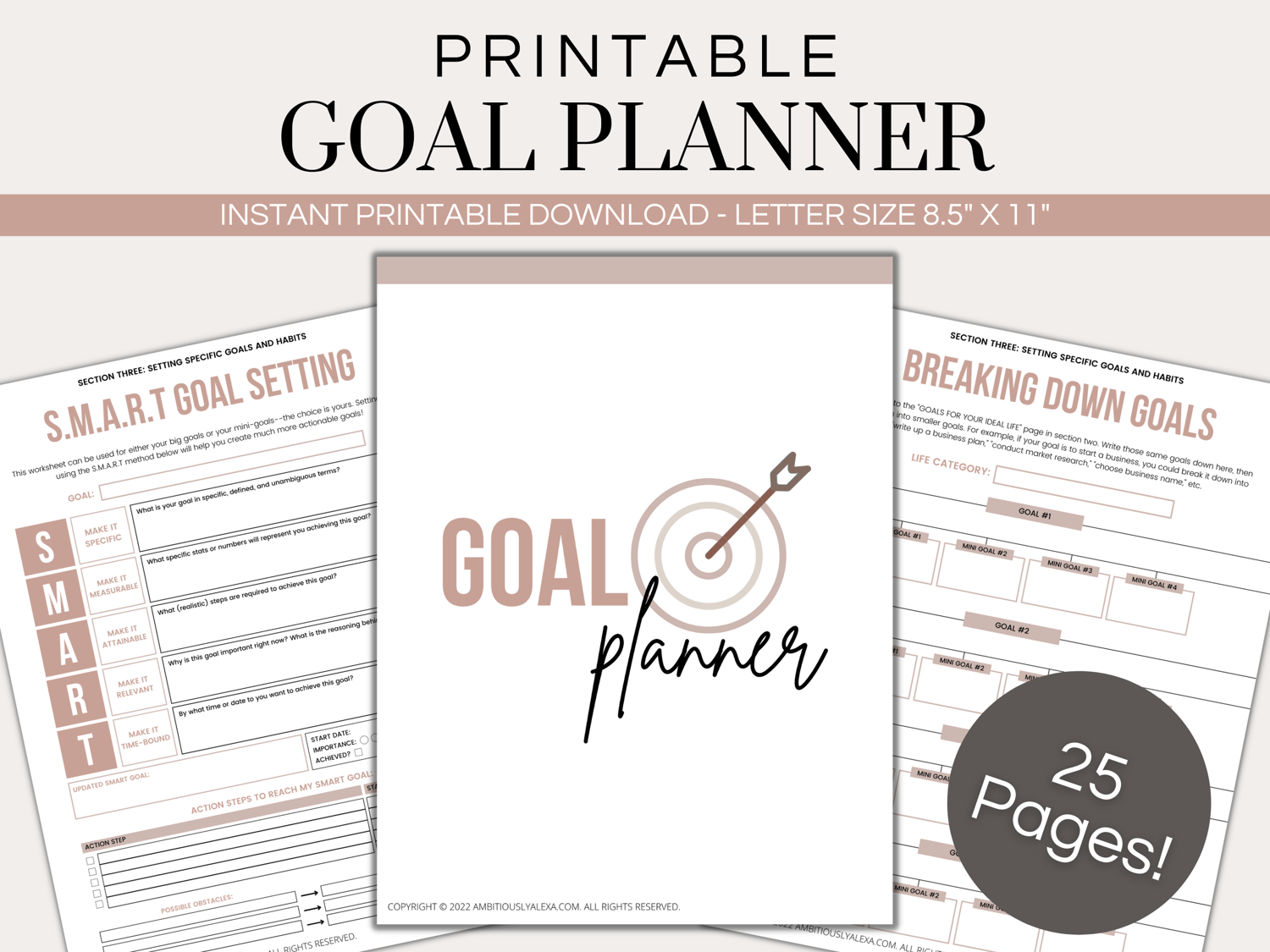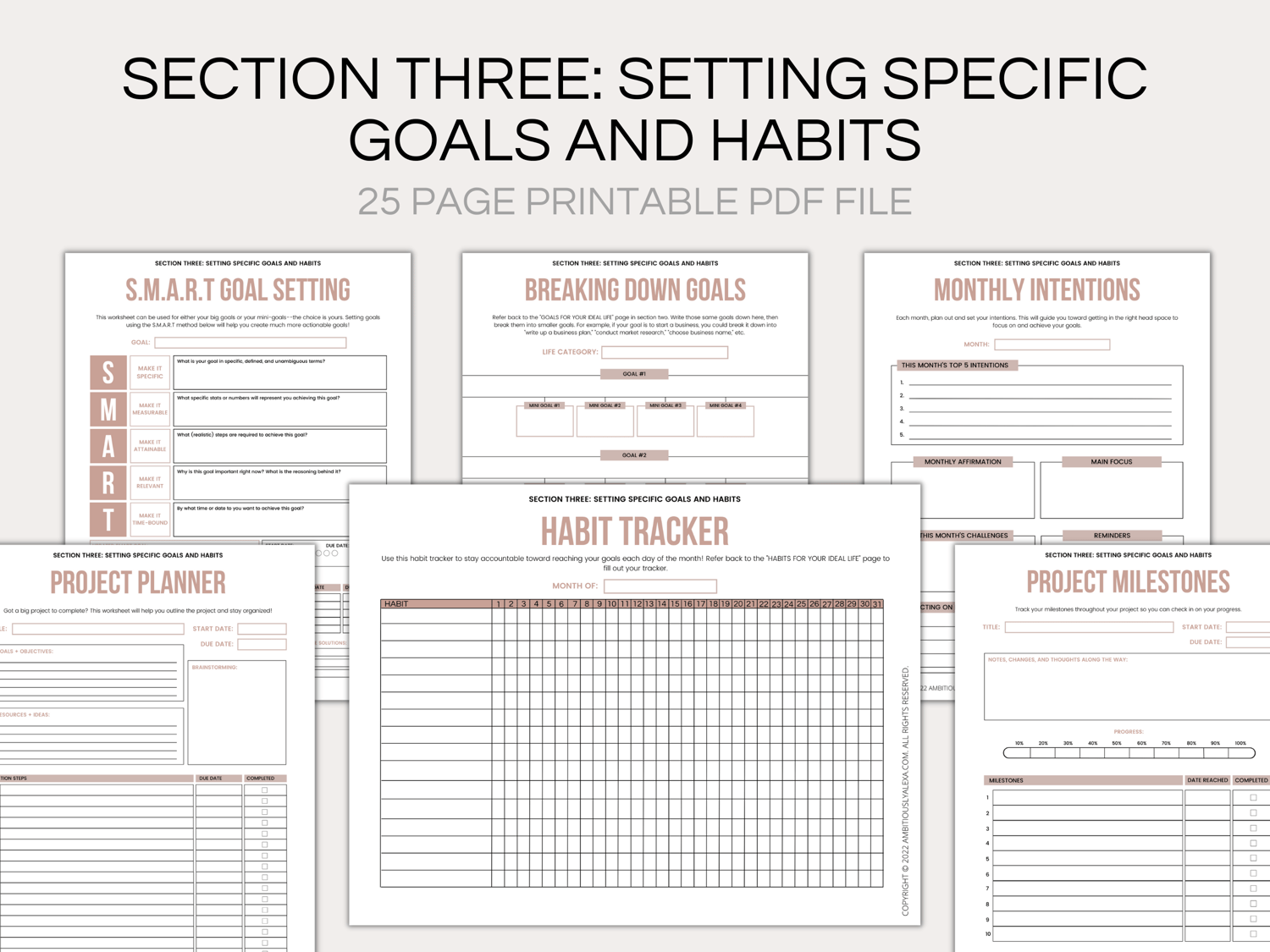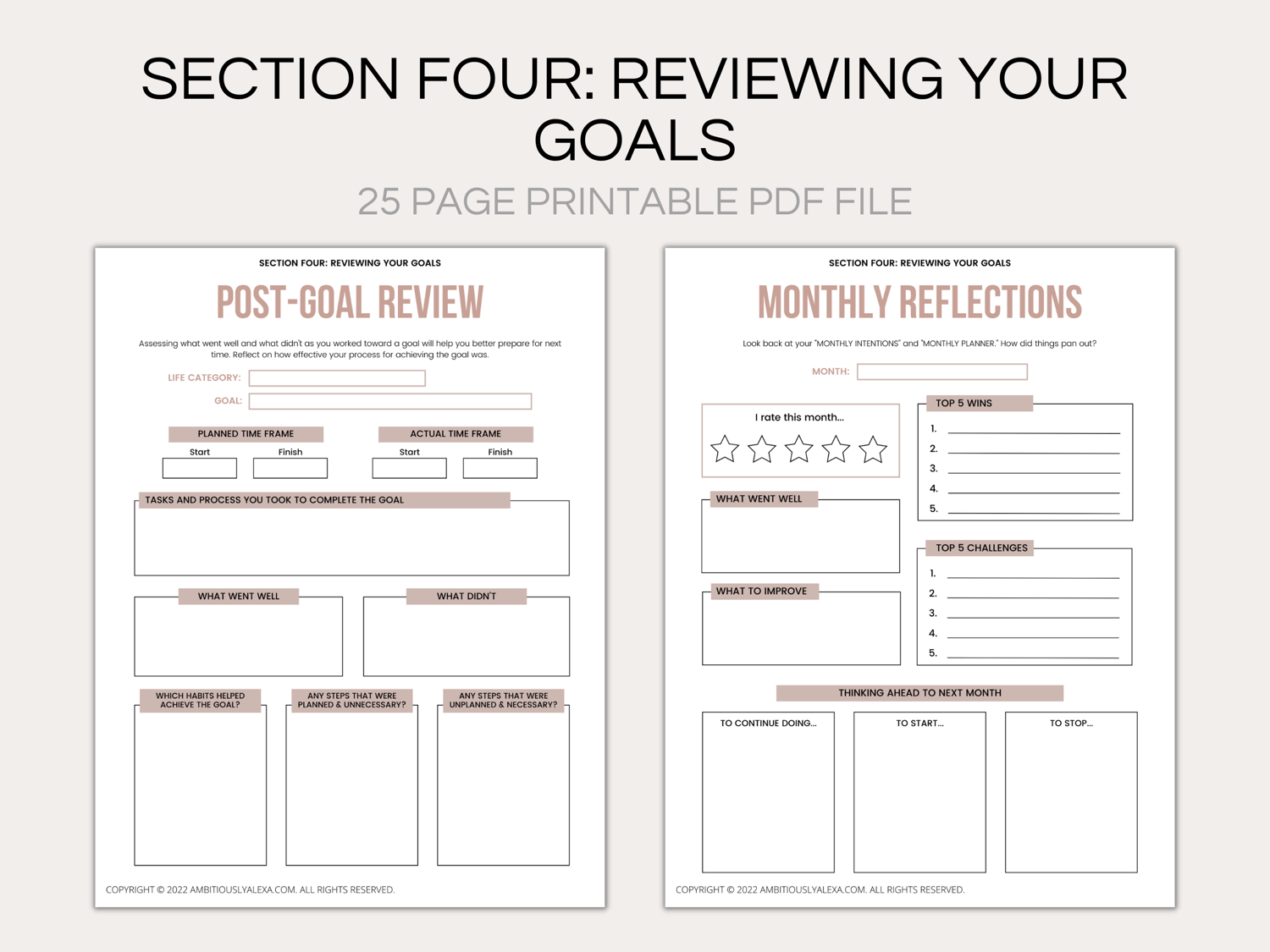 Goal Planner
On Sale
Science says 92% of people don't achieve their goals.
After using this goal planner, it'll be crystal clear why they don't. (And how you can be the 8% who does!)
Tired of setting goals but never seeming to follow through? Unsure how to set goals that work in the first place? This Printable Goal Planner alleviates all of that by helping you set, plan, AND
actually achieve the right goals for your life!

From here on out, set yourself up for success with the help of this comprehensive, achievement-focused Goal Planner! You'll be walked through the step-by-step process of effective goal setting in four crucial areas:
Section One: Intentions And BrainstormingSection Two: Setting Broad Goals And HabitsSection Three: Setting Specific Goals And HabitsSection Four: Reviewing Your Goals
No goal yet? No problem! The Goal Planner starts with intention-setting and brainstorming, so you can identify the goals that are right for you and that align with your values. From there, you will work from broad, big-picture goals, to the nitty-gritty specifics of forming S.M.A.R.T goals. And finally, reviewing your goals to see if you achieved them effectively and efficiently!
We also can't chase our goals without having the right
HABITS
in place! Because a goal is no good if we don't have the relevant habits to get us there, this Goal Planner focuses both on
your goals
AND
the habits necessary to achieve your goals. 
By the end of this planner, you'll have a foolproof goal plan built on specifics, consistency, good habits, and proper preparation for potential obstacles. 
PAGES INCLUDED IN THE GOAL PLANNER: (25 PAGES)
Cover Page
"How It Works" Guide
Section One:
Intentions by Life Category
Vision Board Planner
Your Life Ahead
Goal Brainstorming
Section Two:
Goals for Your Ideal Life
Habits for Your Ideal Life
Quarterly Goals
Annual Goals
Bucket List
Master To-Do List
Section Three:
Breaking Down Goals
S.M.A.R.T Goal Setting
Habit Tracker
Project Planner
Project Milestones
Monthly Intentions
Monthly Planner
Weekly Planner
Daily Task List
Section Four: 
Post-Goal Review
Monthly Reflections
Notes, blank
Notes, lined
(*Please note: this is a digital download product only. Nothing will be shipped to you.)
If you purchase this planner, you will get a 15% coupon for your next purchase on any of my other products :) Format / How to Download:
This digital planner is in PDF form, to be printed in Letter Size 8.5"x11" format.
There is a 0.6" lefthand margin on each page to allow space for hole punching after printing.
Upon completing your purchase, you will be automatically sent to a download page where you can instantly download the Goal Planner.
You will also be emailed a receipt which includes the link to the download page, where you can download from at any time.
Terms of Use:
This Goal Planner is copyrighted and is intended for personal use only. Commercial use is forbidden. Please do not resell or redistribute to others.
Refunds:
Due to the nature of digital content, all purchases of digital products from our Site are final. However, please do not hesitate to contact me if you have any concerns or complaints with your product!
---------------------------
Enjoy and Take Care!