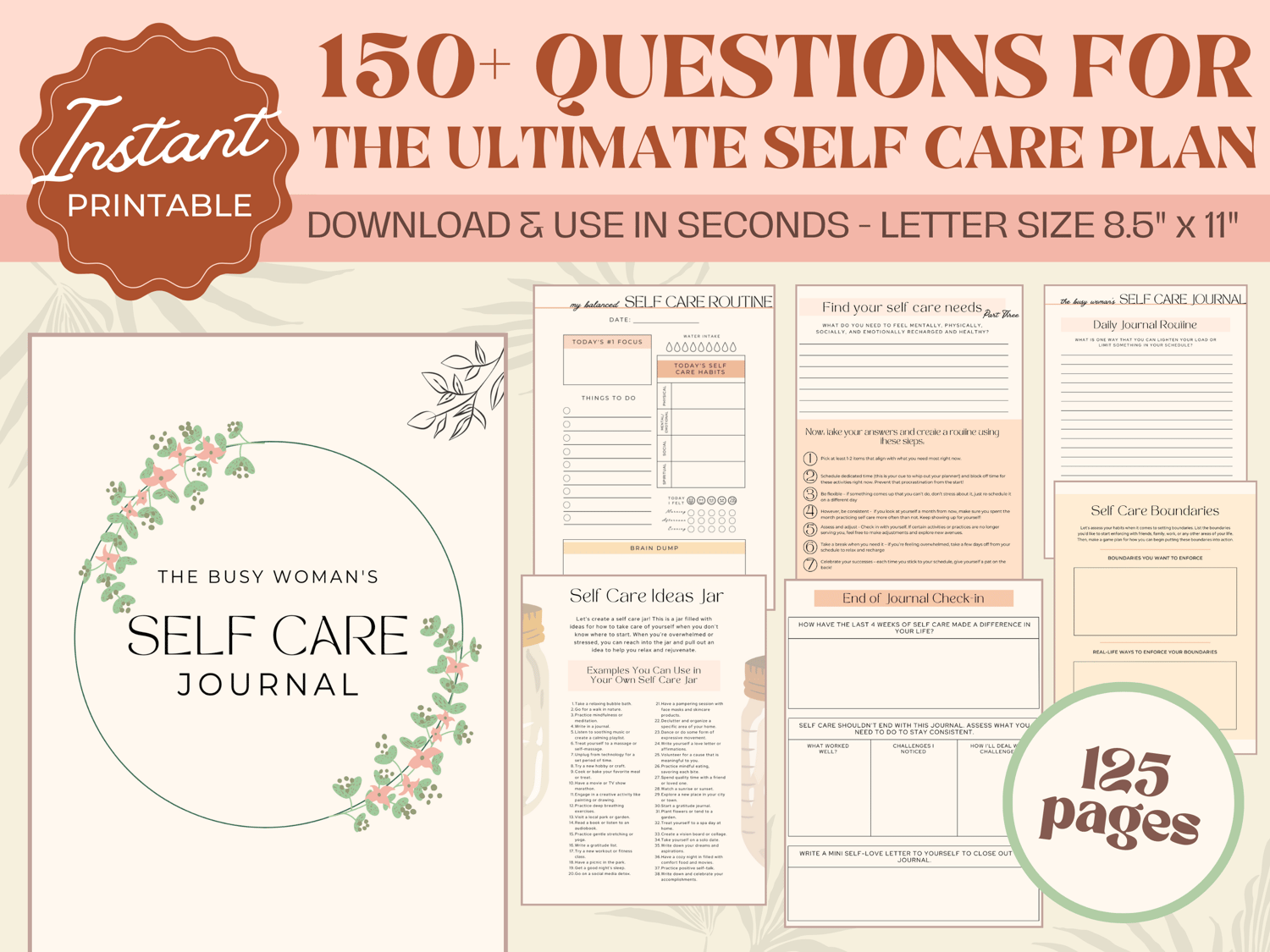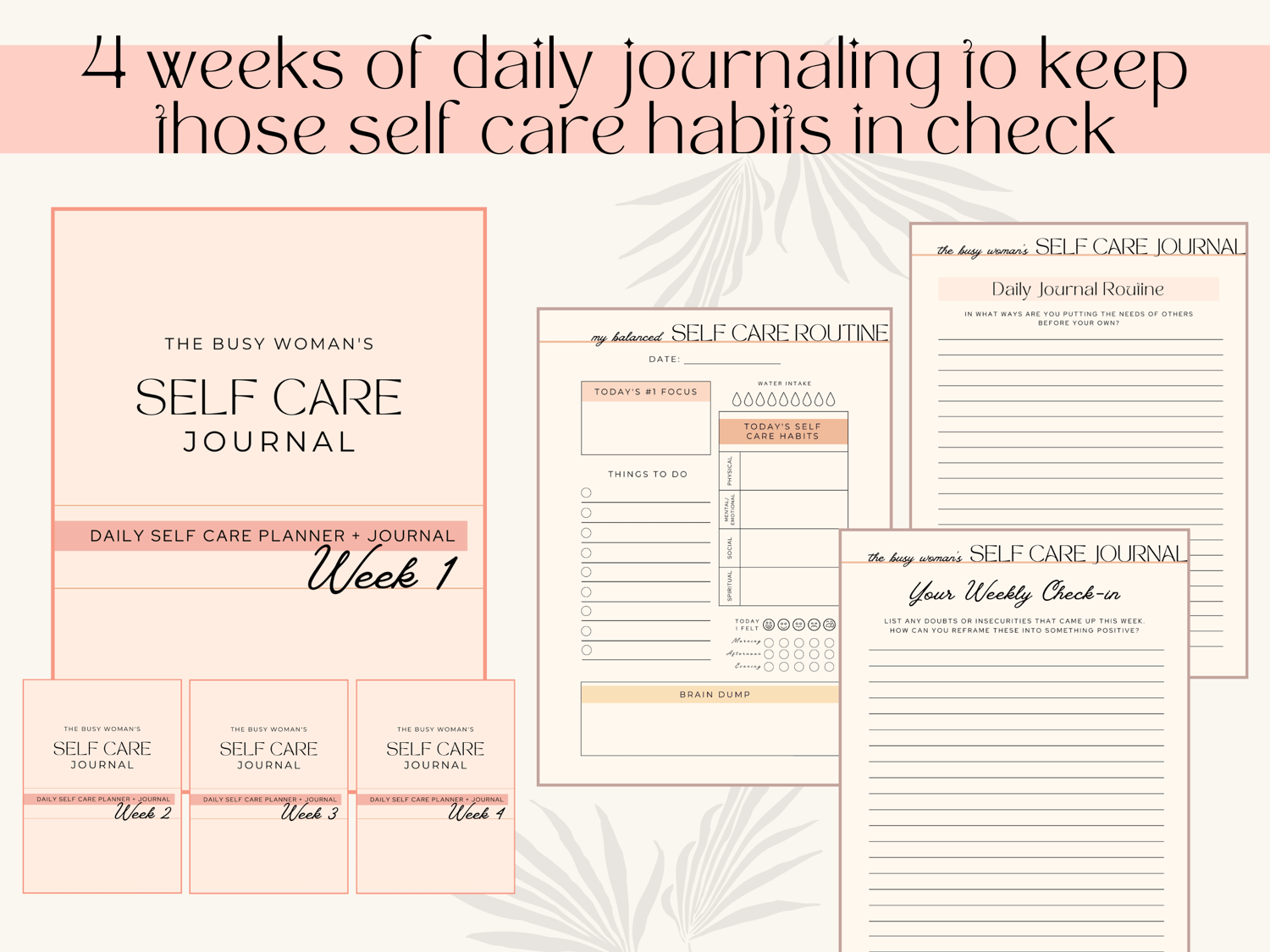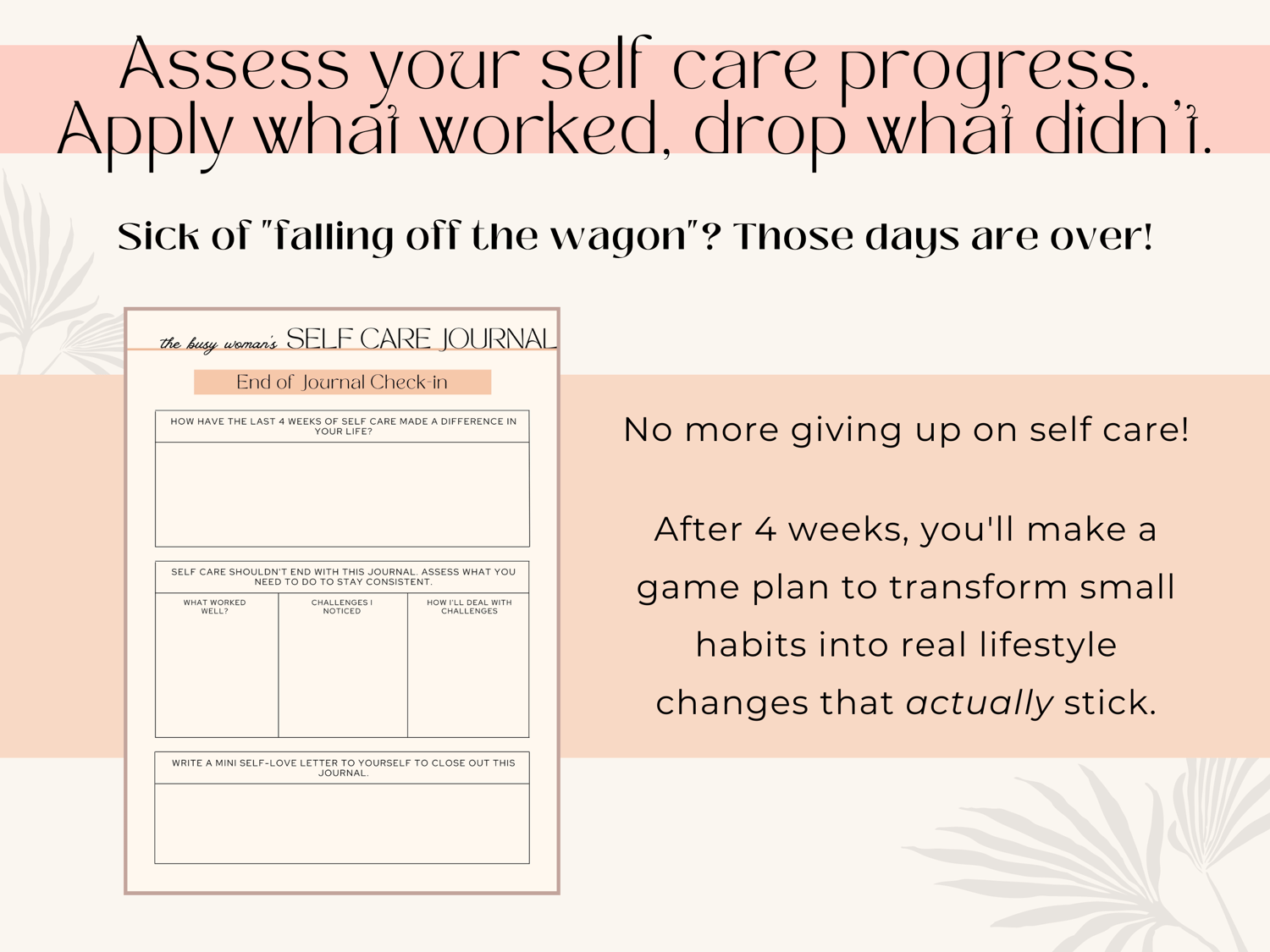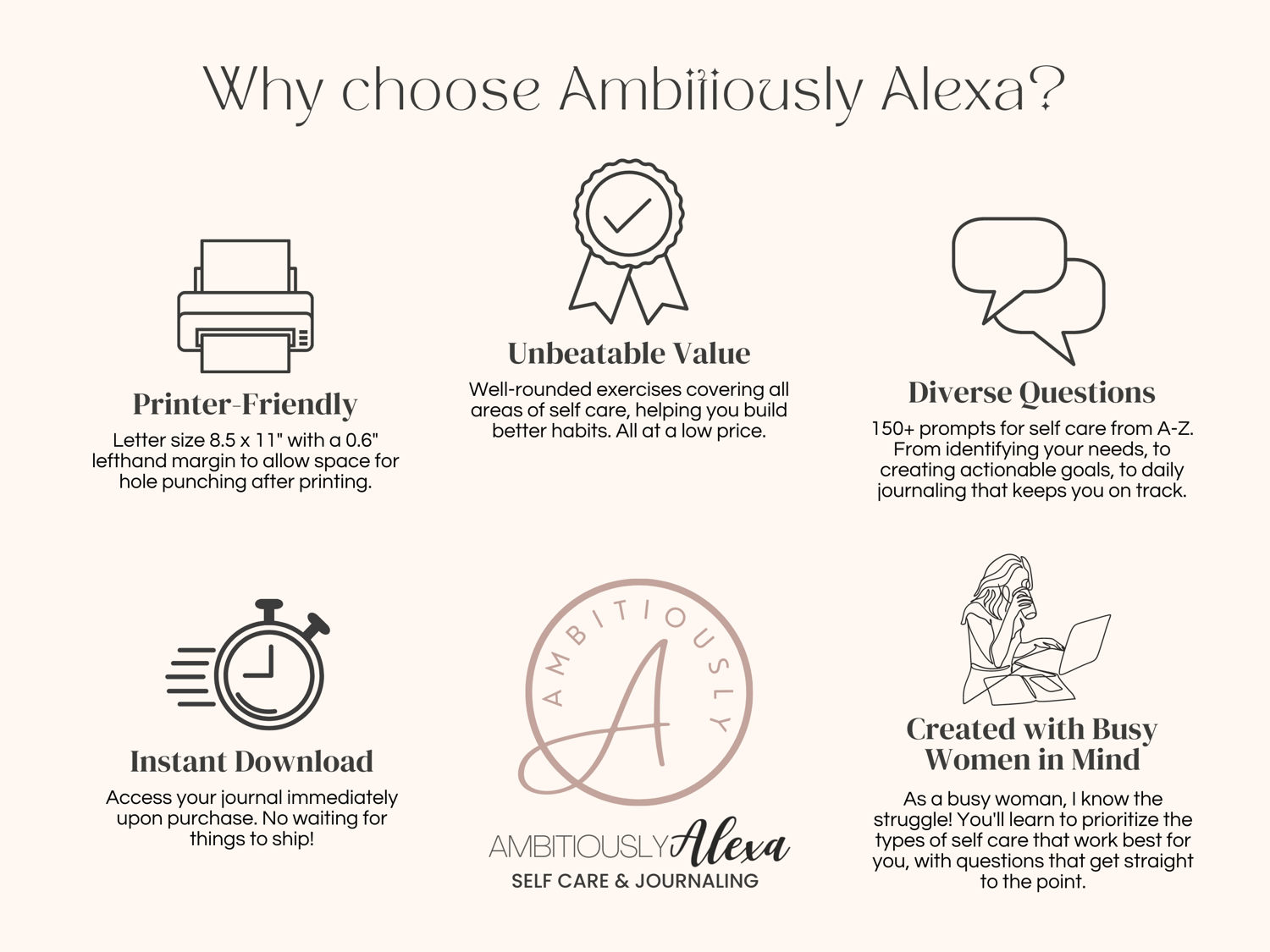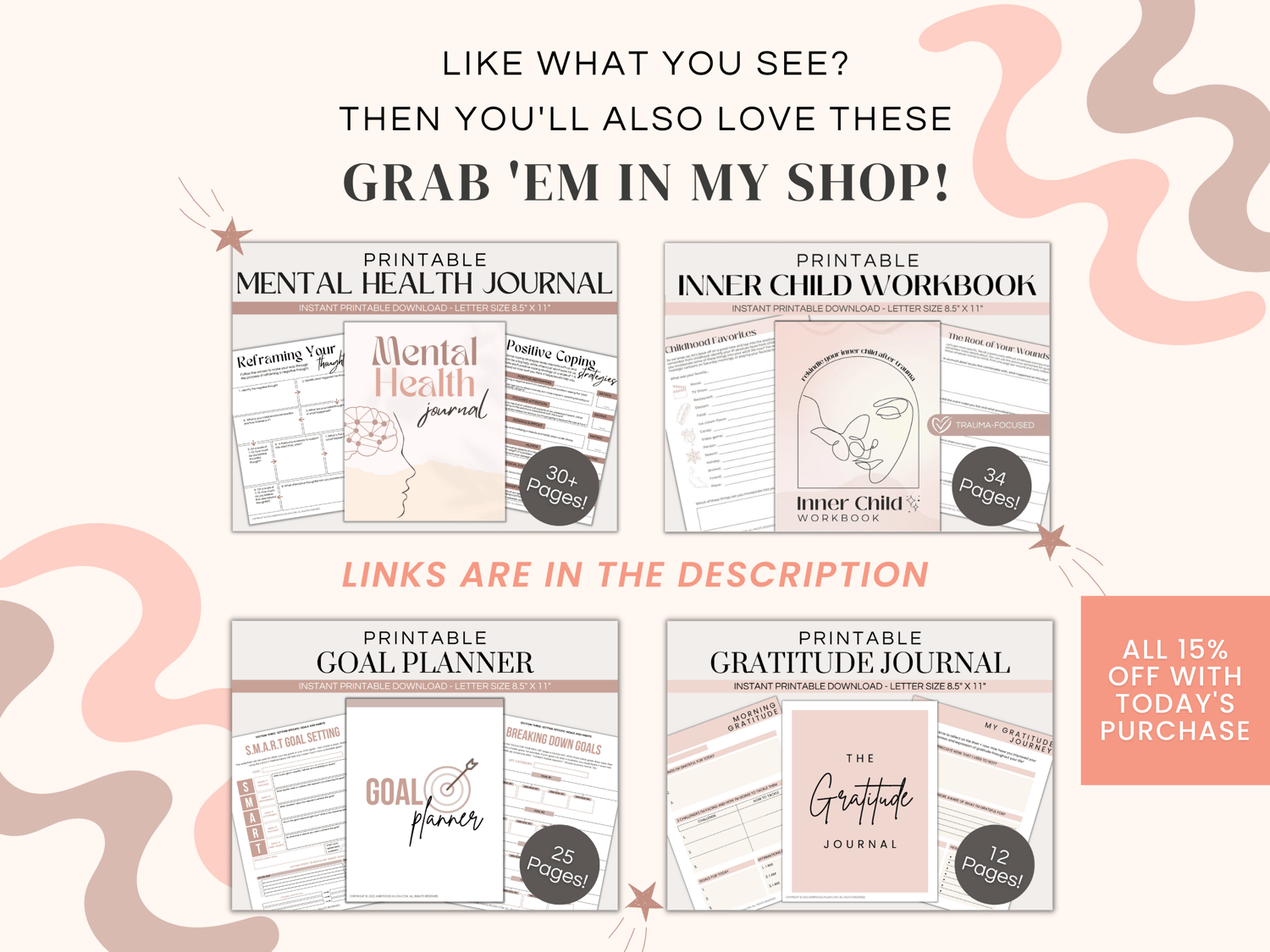 The Busy Woman's Self Care Journal
On Sale
You're busy. Your schedule is jam-packed. You're probablyyy running on empty, or close to it. You need self care made simple. This is where the Busy Woman's Self Care Journal comes in!
Made by a busy woman, for busy women, the ultimate goal of this journal is simple: to help you prioritize self care in *every* area of your life. Then, you can make an effective self care plan that works for you–no matter how crazy life gets!
The Busy Woman's Self Care Journal is carefully curated with a variety of activities, exercises, and prompts that cater to all of your unique self care needs.
From identifying what those needs are in the first place, to breaking down specific self care goals, to simple daily journaling with uniquely thought-provoking prompts, this journal covers it all. It's like having a personal coach and life planner wrapped up into one!
AND…BONUS…unlike most journals, this one won't let you forget about everything you just did. With a self care wrap-up at the end of the journal, you get to assess what worked and what didn't over a 4-week period. This lets you walk away with a real self care game plan to make sure those good habits actually stick.
So why wait? Invest in your well-being and *finally* make self-care a priority, one page at a time!
SECTIONS COVERED IN THE BUSY WOMAN'S SELF CARE JOURNAL (125 PAGES TOTAL):
The Truth About Self Care: What Makes It So Important?

Find Your Self Care Needs

Tips to Create a Self Care Routine That Works

Physical Self Care

Mental Self Care

Emotional Self Care

Spiritual Self Care

Self Care Practices & Ideas

Self Care Ideas Jar

Self Care Boundaries

Positive Self Care Affirmations

Self Care Goals

4 WEEKS of Quick & Easy Daily Self Care Planning + Journaling

Weekly Check-Ins to Track Your Progress

End of Journal Check-In: Making a Game Plan to Maintain Your Habits
(*Please note: this is a digital download product only. Nothing will be shipped to you.)
If you purchase this workbook, you will get a 15% coupon for your next purchase on any of my other products :) 
💗 Like what you see? Then you'll also love these!
🧠 MENTAL HEALTH JOURNAL:
https://shop.ambitiouslyalexa.com/b/R4Zvk 
🧸INNER CHILD WORKBOOK:
https://shop.ambitiouslyalexa.com/b/inner-child-workbook
🎯GOAL PLANNER
https://shop.ambitiouslyalexa.com/b/xDodM 
🙏GRATITUDE JOURNAL
https://shop.ambitiouslyalexa.com/b/JMSQA
✨the technical stuff✨
-------------------
Format / How to Download:
This digital workbook is in PDF form, to be printed in Letter Size 8.5"x11" format.
There is a 0.6" lefthand margin on each page to allow space for hole punching after printing.
Upon completing your purchase, you will be automatically sent to a download page where you can instantly download the Self Care Journal.
You will also be emailed a receipt which includes the link to the download page, where you can download from at any time.
Terms of Use:
The Busy Woman's Self Care Journal is copyrighted and is intended for personal use only. Commercial use is forbidden. Please do not resell or redistribute to others.
Refunds:
Due to the nature of digital content, all purchases of digital products from our Site are final. However, please do not hesitate to contact me if you have any concerns or complaints with your product!
Disclaimer:
I, Alexa Davis, founder of Ambitiously Alexa, am not a licensed psychologist, counselor, physician, or therapist, nor am I claiming to heal, treat, cure, or prevent any psychological/emotional/medical conditions. This workbook is not meant to substitute or serve as therapy, professional medical advice, treatment or any diagnostic measure or tool. This is only meant to be used as a helpful guide. (The most I have is a B.A. in Psychology, so I'm not able to do anything fancy here!)
---------------------------
Enjoy and Take Care!