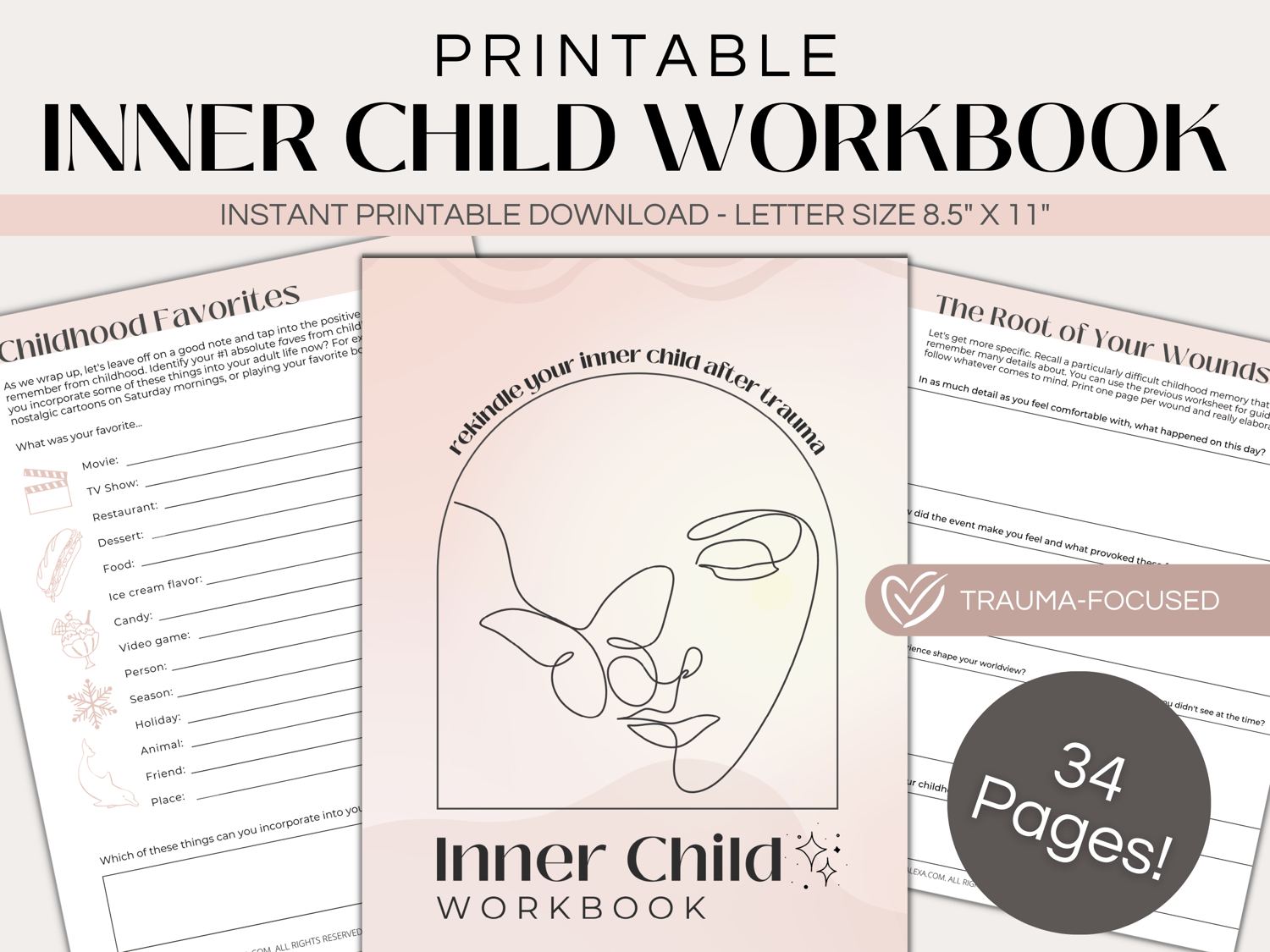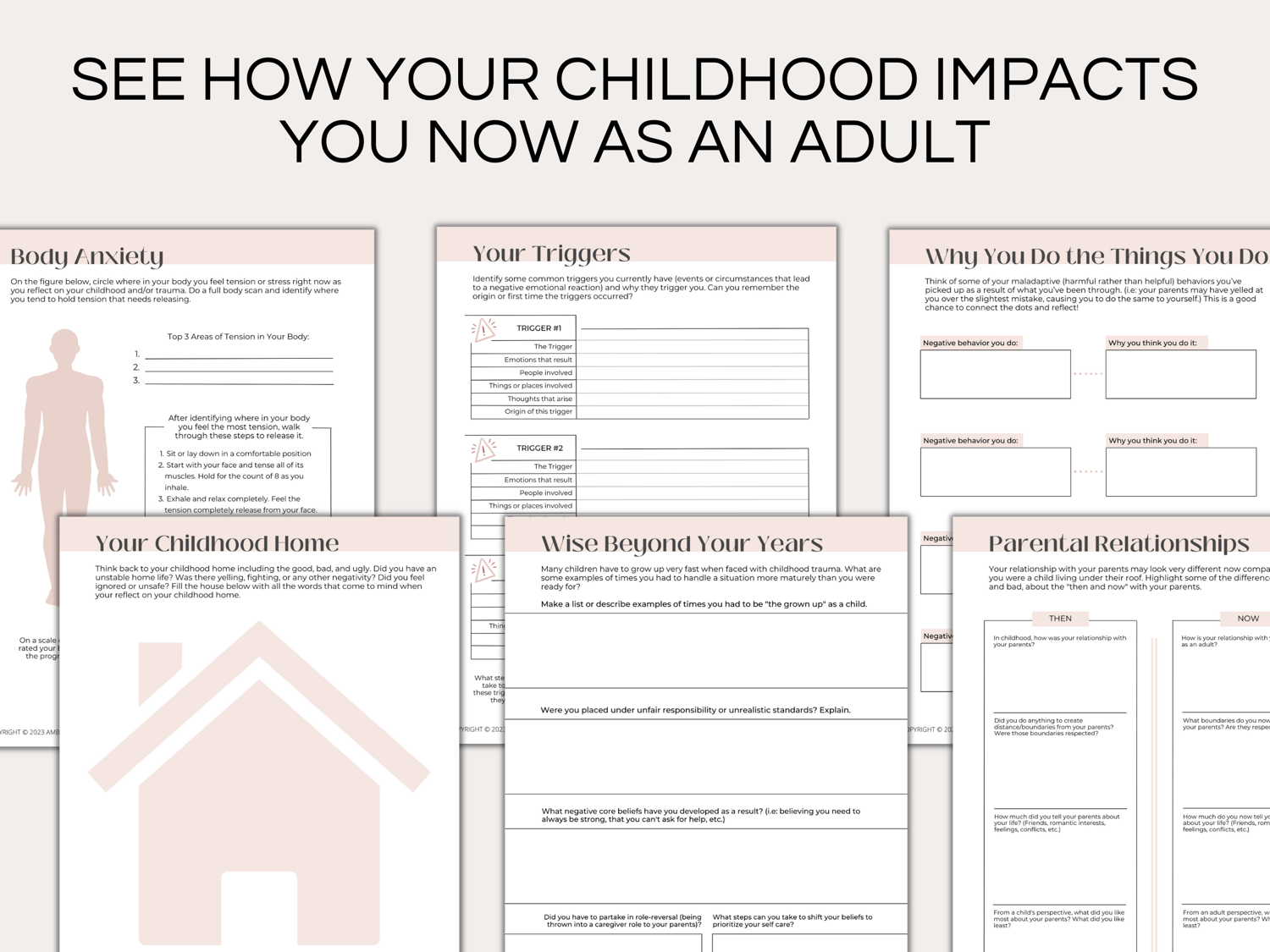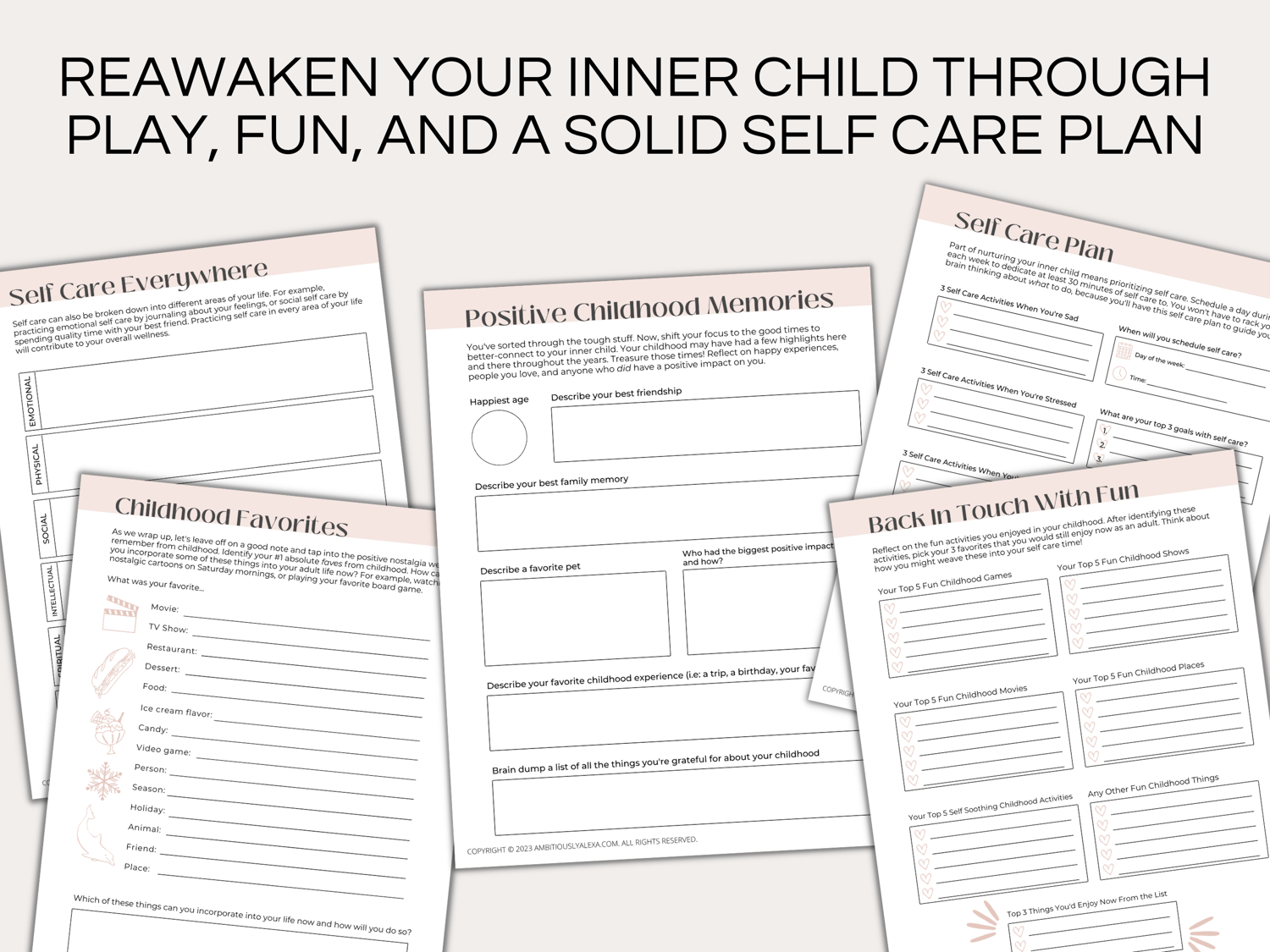 Inner Child Workbook
On Sale
No matter how little or large, many of us hit adulthood and realize "hey, wait a minute…I might have experienced some type of trauma."
Feeling anxious 24/7, constantly trapped in fight-or-flight, ruminating about the past, experiencing vivid nightmares. Does this sound like you? If so, your inner child is likely in need of nurturing.
This inner child workbook is here to help you do exactly that.
Discovering the root of your fears, insecurities, and negative thought loops can often be accomplished through re-connecting with your inner child. When your inner child is wounded or otherwise suppressed in some way, the impact can manifest in your mindset, behaviors, and emotions well into adulthood.
By the end of this Inner Child Workbook, you'll gain a better understanding of
why you face things like fear, self-blame, insecurity, and a harsh inner critic.
You'll be made aware of the
link between your adult behaviors and the childhood roots
they stem from. Most of all, you'll take this newfound awareness and use it to re-parent your inner child as you
get back in touch with fun, play, and a solid self care plan.PAGES INCLUDED IN THE INNER CHILD WORKBOOK (34 PAGES):
Cover page
Back to the Beginning
The Root of Your Wounds
Hardest of All Hardships
Hurt & Betrayal
Rewrite Your Past
Your Way Forward
What You Needed to Hear
Parents character traits
Your Childhood Home
Safe Spaces
Challenging Your Inner Critic
Be Who You Want to Be
Hiding in Plain Sight
Release Your Feelings
Wise Beyond Your Years
Why You Do the Things You Do
Judgment No More
Avoiding Emotions
Collection of Insecurities
Making Space for Forgiveness
Letting Go of Self-Blame
Your Triggers
Body Anxiety
Parental Relationships Then vs. Now
Comforting Words
Nurturing Your Inner Child
Self Care Plan
Self Care Everywhere
Positive Childhood Memories
Back In Touch with Fun
Childhood Favorites
Notes, lined
Notes, blank
(*Please note: this is a digital download product only. Nothing will be shipped to you.)
If you purchase this workbook, you will get a 15% coupon for your next purchase on any of my other products :) 
💗 Like what you see? Then you'll also love these!
🧠 MENTAL HEALTH JOURNAL:
https://shop.ambitiouslyalexa.com/b/R4Zvk
🧘🏻‍♀️ THE BUSY WOMAN'S SELF CARE JOURNAL:
https://shop.ambitiouslyalexa.com/b/self-care-journal
🎯GOAL PLANNER
https://shop.ambitiouslyalexa.com/b/xDodM
🙏GRATITUDE JOURNAL
https://shop.ambitiouslyalexa.com/b/JMSQA
✨the technical stuff✨
-------------------
Format / How to Download:
This digital workbook is in PDF form, to be printed in Letter Size 8.5"x11" format.
There is a 0.6" lefthand margin on each page to allow space for hole punching after printing.
Upon completing your purchase, you will be automatically sent to a download page where you can instantly download the Inner Child Workbook.
You will also be emailed a receipt which includes the link to the download page, where you can download from at any time.
Terms of Use:
This Inner Child Workbook is copyrighted and is intended for personal use only. Commercial use is forbidden. Please do not resell or redistribute to others.
Refunds:
Due to the nature of digital content, all purchases of digital products from our Site are final. However, please do not hesitate to contact me if you have any concerns or complaints with your product!
Disclaimer:
I, Alexa Davis, founder of Ambitiously Alexa, am not a licensed psychologist, counselor, physician, or therapist, nor am I claiming to heal, treat, cure, or prevent any psychological/emotional/medical conditions. This workbook is not meant to substitute or serve as therapy, professional medical advice, treatment or any diagnostic measure or tool. If you're not sure if this is right for you, show it to your therapist. This is only meant to be used as a helpful guide. (The most I have is a B.A. in Psychology, so I'm not able to do anything fancy here!)
---------------------------
Enjoy and Take Care!